The Bounce-Forward Factor: How to Thrive in Life, School and Work When You're Feeling Overwhelmed
Dr. Jermaine Davis, CEO & President, Jermaine M. Davis Seminars & Workshops, Inc.
Adversity and hardships are a fact of life. Tough times in life, school, and work are unavoidable. Don't worry! By learning and practicing the Bounce-Forward Factor, you will learn how to thrive in the midst of chaos, high-stress, and uncertainty. In this engaging and interactive keynote, Dr. Jermaine M. Davis will share practical tips on how to emotionally and psychologically Bounce-Forward when life, school, and work leave you feeling drained, depleted, and overwhelmed.
The Bounce-Forward Factor will teach you how to flourish during life's most difficult moments. You will leave this presentation feeling motivated and inspired to live a life by design rather than by default. This keynote presentation is based on Dr. Jermaine's best-selling book, How to Stay Motivated Even When You Don't FEEL Like It! Get ready to laugh and of course have fun, as you learn how to thrive and succeed utilizing the Bounce-Forward Factor.
𝙿𝚛𝚎𝚜𝚎𝚗𝚝𝚎𝚛: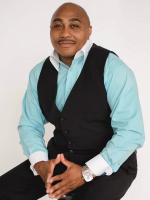 Dr. Jermaine Davis is an award-winning professor of communication studies at Century College and organizational leadership at St. Kate's University in Minnesota. He has authored 10 books including, Get Up Off Your Butt & Do It NOW, Leading with Greatness, and Leading and Working with an Inclusive Lens. Dr. Jermaine holds a BA and an MA in speech communications, and a doctorate in organizational leadership. He specializes in helping organizations develop a culture of belonging so ALL students and employees can thrive and flourish. As a Hall of Fame Speaker, Dr. Jermaine helps leaders increase morale, motivation, and engagement utilizing his popular 3 C's Approach: Communication, Cooperation, and Collaboration.
Become an Overcomer: How to Let Go of Negative Self Talk and Live Intentionally!
Brittany Richmond, Anxiety Expert & Student Influencer
Mental health, much like physical health, is a muscle that needs to be nurtured to get stronger, especially as an emerging leader. With that, comes many challenges. One that dominates is negative self-talk. Becoming an overcomer means being proactive in our efforts to maintain good mental health, especially in our mindset and how we see our value.
In this presentation, Brittany speaks to students about her personal struggles with mental health and negative self-talk and the steps to overcome them. Brittany believes in R&R for our mindset: Removing and Replacing. Through multiple interactive activities, she will take students on a journey of "unpacking their book bags" with what is weighing them down. Removing fears, worries, comparisons, limitations, and expectations that can be detrimental to our well-being. Students will then start to replace these items with positive habits and behaviors important to them. Relatable insights include creating a safe space for difficult conversations, showing students that they are not alone in their struggles and how to take action starting today for good mental health that will serve them in their personal and professional lives.
Learning objectives:
A sense of belonging and empowerment around the realization that they are not alone in their struggles.
Learn that becoming an overcomer is a TEAM effort and that we cannot go about this journey alone.
Learn actionable items that they can implement right away to start the process of strengthening their mindset as emerging leaders.
𝙿𝚛𝚎𝚜𝚎𝚗𝚝𝚎𝚛: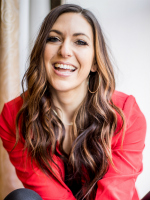 Brittany Richmond is an energetic, charismatic communicator and a mental health expert of 10+ years. Brittany uses her own battle with mental health to inspire students, but most importantly, let them know that they are not alone; and that there is help and hope. Brittany's energy and knowledge draws students in as she creates a safe place to be vulnerable and compassionate – to connect with students and help them start to build, develop and implement, what she calls, "life-saving" proactive coping strategies. brittanyrichmond.com