Why Should You Attend NCSL?
Companies want to hire students with proven records of leadership experience. But employers are having a hard time finding people with the right skill sets for the job. College students aren't learning enough about critical thinking, communication, or conflict management. They crave help #adulting.
NCSL is famous for helping students put their newfound leadership skills into practice. Every workshop and keynote speaker dishes out practical steps and gives you an opportunity to take those steps.
When you attend NCSL:
You'll be inspired to create change by the way you communicate
You'll understand how to take care of yourself even while you help others succeed
You'll see a big picture overview of issues that today's college students face, while zeroing in on meaningful ways to make a difference for individuals
You'll get practical steps to run your student organization and learn how to recruit and motivate new members
You'll join a network of like-minded peers
You'll feel more confident about your post-college opportunities because you will have practiced networking, resume writing, interviewing, financial planning and leadership
NCSL is where lifelong leadership begins!

But don't just take our word for it…
"It's the best conference I have ever been to. The speaker arrangement truly had an impact on my life."
Riley F.
Student
"NCSL is an amazing opportunity for your students to learn and grow. They will meet and network with speakers and presenters but also with other students. Lifelong relationships can be built starting with NCSL."
Spencer W.
V.P. Student Government Association at Capital Community College
"NCSL is a place where you can learn more about yourself in more ways than you were expecting. The lessons you take from this conference will follow you for life."
Annjeannette M.
Campus Activity Chair
"It is a great experience and you need to take advantage of all the knowledge you can learn and take away from it."
Antonio M.
Treasurer
"It is worth attending when you see your students excitement after returning to campus."
Waynette A.
SGA Advisor
"This was a great opportunity to find who you are as a leader."
Miranda K.
Senate President
The National Conference on Student Leadership is:
Independent. Your feedback alone directly affects our speakers, topics, activities, and location selection every year.
Personalized. You create the conference you need by customizing your workshop schedule. Our App makes it easy.
Inclusive and Diverse. Benefit from hearing different perspectives and connecting with people from completely different backgrounds.
Fun with a Purpose. Get off your seats and on your feet from the very first welcome session.
Membership. Develop a culture of championing student leadership at your campus. Member Institutions receive significant benefits. Attend NCSL in 2023 and receive a free NCSL Membership for your campus!


NCSL over-delivers on all fronts: 
World-class presenters
Interactive sessions
Customizable workshop schedule
Diverse attendees and campuses
Next-Gen leadership strategies
Inclusive networking for all personality types
Personal and professional development you'll use for the rest of your life
Legendary facilitators
ADA friendly
People who attend NCSL gain much more than information. They leave NCSL encouraged, inspired, and equipped with what to do next. 
Leave your preconceived ideas of what a conference is. NCSL is unlike any conference you've been to.
World Class Presentations
Every keynote is research-based educational content delivered in a culturally relevant way. The NCSL speakers and workshop leaders deliver cutting-edge presentations that do more than just motivate students. They give students tangible skills to lead on campus and beyond. Be prepared for an unforgettable conference experience! Think of each of the keynotes as an un-keynote designed to get you thinking, networking and difference-making.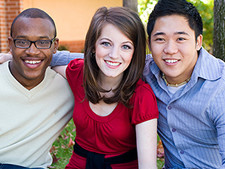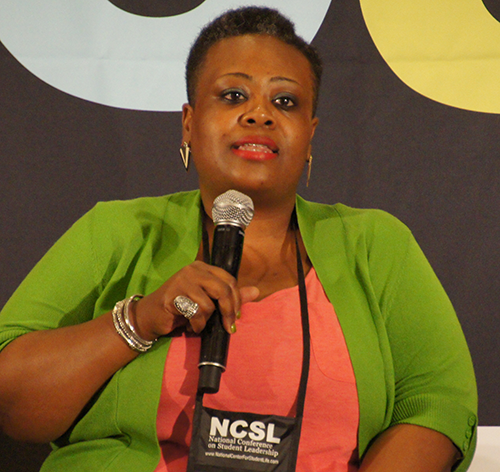 Our speakers move beyond theory into practical application because they've been right where you are. They are business owners, advocates, advisors, teachers, professors, entrepreneurs, poets, and artists. They are first-generation college grads, children of immigrants, and people busting the status quo on a regular basis.
They get you. And they want to relate with you during the conference. 
"My favorite part of the conference was interacting with the presenters and speakers, whether it was during keynotes, workshops, or just meeting them outside of the rooms."
—NCSL attendee
Build the best conference for your needs with a customizable workshop schedule. Plan to attend any session in any track. Make this conference your own!
Workshop topics include: 
innovative leadership for changing times
inclusive leadership
communication skills for leaders 
life skills and personal development
networking
self-care and wellness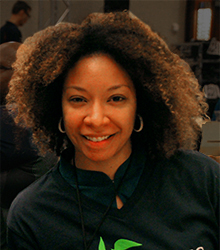 Advisors—check out the program designed just for you.
When you're on the student affairs career track, you're dealing with a bit of everything. Discipline. Counseling. Marketing. Event planning. Emergency response. It's a lot. We get it.
The NCSL Advisor Experience is custom crafted to deliver content that will help you tackle your biggest challenges in student affairs.
Use the NCSL App to Connect & Coordinate
Download the NCSL App to connect with other conference attendees ahead of time. Use the app during the conference so you'll always know when and where you're supposed to be. And after the conference, you'll be able to download speaker handouts and other info to help you apply all that you learned to your day-to-day life on campus.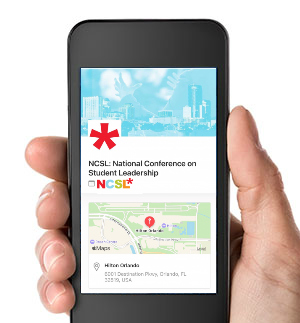 A student, especially a third- or fourth-year student
On a campus activities
board
Involved in
other extracurricular organizations
Interested in becoming a
leader on your campus
Advising
students and student leaders in any capacity
NCSL Helps You Lead
Better than Ever
We aim to make every conference better than the last. We bring back beloved speakers and invite many new ones. Alumni become workshop leaders. Every conference has its own vibe.
But there's one thing that always stays the same: our dedication to being the best conference on student leadership.
You have it in you already: ideas, strength, empathy, advocacy.
You're already a leader on your campus—whether you're in charge of one person or a hundred. You have what it takes to make a difference. The world needs your voice. Don't miss your chance to become a GREAT leader.