How Can I Identify and Overcome Obstacles to Change?
This program shows you how to identify obstacles to change and then remove them, identify information gaps and eliminate them, and identify unsupportive peers and enlighten them both before and during your change process.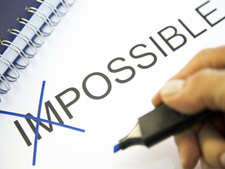 Barrier-free change: Its possible. Heres how.
If change were easy, we wouldnt worry about it. We certainly wouldnt need to talk about it so much. And we wouldnt be afraid of it.
Yet change isnt hard because it is inherently difficult or complex. Change is a challenge because we dont always go about it the right way, because we dont plan appropriately, or because we dont recognize what might derail our efforts once we get going.
When we do it the right way, change is simply a process-not a problem.
Part of that process is looking for barriers that are bound to get in your way and figuring out what to do about them.
Youll learn how to do exactly that in How Can I Identify and Overcome Obstacles to Change?
Learning Goals
The program presenter will present several examples of real improvements and true transformations realized using his methodologies. Drawing upon decades of experience and scholarly research, he will change the way you see change and prepare you for success on your campus.
When you are finished with this program, you will be able to:
Identify and remove the obstacles standing in the way of your desired change
Recognize the training necessary to successfully implement your change
Align departmental or campus systems with your change goals
Effectively roll out a change
Monitor change efforts for obstacles you didnt anticipate, and work to remove them
Revise change plans without losing focus or momentum
Topics Covered
In just 20 minutes, you will learn how to identify and remove obstacles before and during your change effort. In that time youll also see how integral training is, and youll learn how to incorporate it into your plans.
How Can I Identify and Overcome Obstacles to Change? will prepare and empower you to lead change on your campus. You will learn to recognize barriers to change, and identify ways to remove those barriers before and during your change effort.
Purchase
How Can I Identify and Overcome Obstacles to Change? will help you anticipate potential barriers to success and remove them before they become impediments. And the best part is that it just takes 20 minutes. Order today!
Product Code: OM15BA