Helping Introverts Thrive in an Active Learning Classroom
Learn a developmental approach to active learning that will help you create a comfortable environment for introverts and extroverts alike.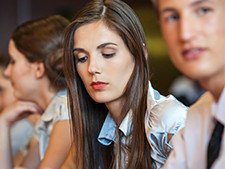 Make active learning work for extroverts and introverts alike.
By all accounts, active learning is a good thing for the classroom. Engaging, participatory, and collaborative, it's a road to deeper understanding and learning.
But it's not for everybody.
In particular, the introverts in your classroom may not be thrilled about it. For them, the discomfort of participation weighs far more heavily than the benefits of active learning. And students who are filled with such anxieties simply are not going to be good learners.
That's an issue you can address—successfully—with the tools you'll acquire in this online seminar.
Benefits
In this one-hour presentation, the presenter shares a developmental approach to active learning that helps you create a comfortable environment for introverts and extroverts alike.
You'll develop a deeper understanding of the characteristics of introverts and extroverts, gain insights to help you uncover and remediate any bias in your existing participation policies, and learn optimal methods for introducing and expanding active learning over the course of a semester.
It's information you can put to work right way in your classroom.
Active learning can be a rewarding experience for every student-even the introverts. Discover how you can create a robust learning environment that works for all the personalities in your classroom.
Learning Goals
At the conclusion of this content-rich, one-hour seminar, you'll be able to:
Articulate how the concepts of introversion and extroversion affect active learning
Analyze the impact of temperament on learning
Identify strategies to respond to the learning needs of introverts
Develop policies and practices to maximize learning for all your students
In short, you'll have the tools you need to implement learning strategies that take into account the diverse personalities and preferences of your students.
Topics Covered
Helping Introverts Thrive in an Active Learning Classroom provides you with insights to help elicit greater participation from and create a more enriching learning experience for classroom introverts. You'll discover ways to turn active learning exercises from a source of anxiety into an opportunity for growth and development.
The presenter first helps you determine where you lie on the introvert-extrovert spectrum, the extent to which that might influence your teaching style, and how it may shape your existing participation policies.
Next, gain insight into how introverted students experience active learning strategies, and discover how you can introduce such strategies in a gradual, developmental way that increases introverts comfort level.
Learn how issues like group size and work-partner selection can impact classroom dynamics, and how to build balance and choice into your participation policies in ways that allow both introverts and extroverts to succeed.
It's information you can put to use right away in your classroom, and which will:
Enrich the environment for your introverted students
Improve the overall cohesion and performance of your entire class
Enhance your pedagogy and your ability to engage all your students
Improve outcomes by developing students who are fully engaged and are enthused about learning
Audience
The classroom behavior of introverted students can easily be misdiagnosed. A lack of participation and appearance of disengagement can be incorrectly attributed to disinterest, poor preparation, distraction, or simple apathy.
Alternatively, some faculty members may see the lack of engagement as a reflection on their own pedagogy. Attempting to address these issues, rather than the true underlying cause, could be ineffective at best, and harmful at worst.
For that reason, it is important for every educator to understand the dynamics of introversion and extroversion and the extent to which they may be impacting the classroom.
Helping Introverts Thrive in an Active Learning Classroom is recommended for:
Full- and part-time faculty
Faculty developers
Faculty with a specific interest in inclusive classrooms and responding to diverse learners needs
The material is relevant to educators at all institutions-two-year and four-year, public and private. It applies to any discipline in which participatory, collaborative work is emphasized.
Purchase
Order this seminar today. It's important not to turn introverts into extroverts, but to acknowledge the differences and preferences among your students and help them to be successful learners.
Product Code: PC14AA
Campus Access License
With the purchase of the optional Campus Access License, registrants are granted a license to download the program contents to a password-protected network, server, or website for additional staff use. You will receive information on downloading the contents of the program within 3-5 business days after payment has been received by Magna.
Group Subscription Options
Campus Safety, Compliance, Department and Program Evaluation and Assessment, Digital Library, Equity, Inclusion, and Diversity, Faculty Support, Group Subscription, Institutional Assessment, Institutional Culture, Leadership, Leadership, Online Program Evaluation and Assessment, Online Program Strategy, Personal and Professional Development for Academic Leaders, Regulatory Compliance, Risk Management, Strategic Planning, Student Support, Supporting Online Faculty, Title IX Clery and VAWA

From:

$

1,297.00

for 1 year

Assessment, Grading, and Feedback, Blended and Flipped Learning, Course Delivery and Instruction, Course Design and Preparation, Department and Program Evaluation and Assessment, Digital Library, Faculty, Faculty Support, Group Subscription, Institutional Culture, Leadership, Legal Concerns, Monday Morning Mentor, Online Assessment, Grading, and Feedback, Online Course Delivery and Instruction, Online Course Design and Preparation, Online Program Evaluation and Assessment, Online Program Strategy, Personal and Professional Development for Academic Leaders, Specific Student Populations, Student Engagement, Supporting Online Faculty, Teaching Strategies

$

999.00